Meet the O'Brien Pharmacy staff: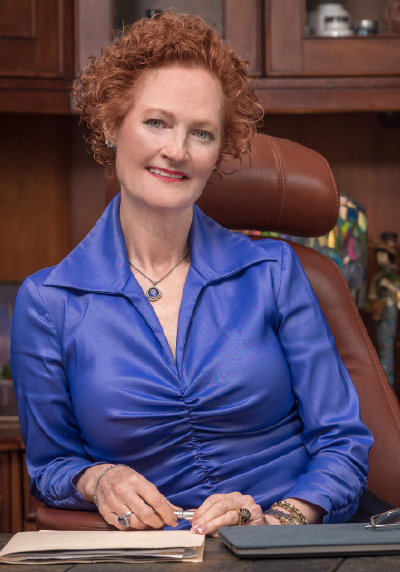 Lisa Everett Andersen
B.SC. PHARM, FACA, CCN
Owner, Holistic Clinical Pharmacist and Board Certified Clinical Nutritionist
Lisa Everett Andersen, pharmacist and certified clinical nutritionist, has a passion for helping people achieve the reversal of disease and the reclamation of their health. She is the owner of O'Brien Pharmacy and the Kansas City Holistic Centre in Mission, Kansas.  In her private consultation practice, she focuses on outcome-based holistic patient care and education. Her work incorporates the principles of biochemically-based clinical nutrition, spirituality, physiology, and pharmacology.
Lisa is an adjunct faculty member of the University of Missouri-Kansas City School of Pharmacy and the University of Kansas School of Pharmacy.  She has served as a clinical instructor for the University of Kansas School of Medicine. Lisa has contributed articles to a variety of professional publications and has lectured to professional and patient groups both locally and internationally, compiling more than 1500 presentation hours.   
Lisa was on the Midwest Internal Review Board for 10 years, overseeing more than 950 studies for the Food and Drug Administration. She also served on the board of trustees for the American Holistic Medical Association.  Her professional engagements include serving as President of the International and American Associations of Clinical Nutritionists, participating as a member on the Professional Affairs committee for the Kansas Pharmacists Association, and being a member of the International Association of Compounding Pharmacists.
Lisa was a Celebration of Women 2002 honoree and was named a KU School of Pharmacy Preceptor of the Year. She was the recipient of the 2013-2014 Excellence in Innovation Award from her peers and KPhA.  The award was for innovations in her practice that resulted in improved patient outcomes. Optimal Daily Allowance, the multi vitamin/mineral supplement she designed, was given the 2014 five star award from NutriSearch Comparative Guide to Nutritional Supplements. She also formulated the antioxidant supplement Body & Vision.
After decades of research and clinical observation, Lisa has authored her first book, Learning To Thrive in a Toxic World And the Impact of Clinical Endocrinology and BHRT – A Reference for Healthcare Practitioners and Patients. Lisa Everett Andersen, Holistic Clinical Pharmacist and Board Certified Clinical Nutritionist dispenses a different prescription. She is writing her second book, Learning To Heal in a Toxic World – A Reference for Healthcare Practitioners and Patients. Lisa Everett Andersen dispenses holistic remedies.
She is currently enrolled in The Canadian College of Homeopathic Medicine, seeking her diplomate in constitutional homeopathic medicine.
In additional to her professional achievements, Lisa is an accomplished ballroom dancer, guitarist and singer. She enjoys a wide range of intellectual and cultural activities and is a passionate environmental advocate. She loves creating delicious vegan feasts for friends and family and relaxes with knitting, reading, and playing the Native American flute. She and her husband live in Olathe, KS.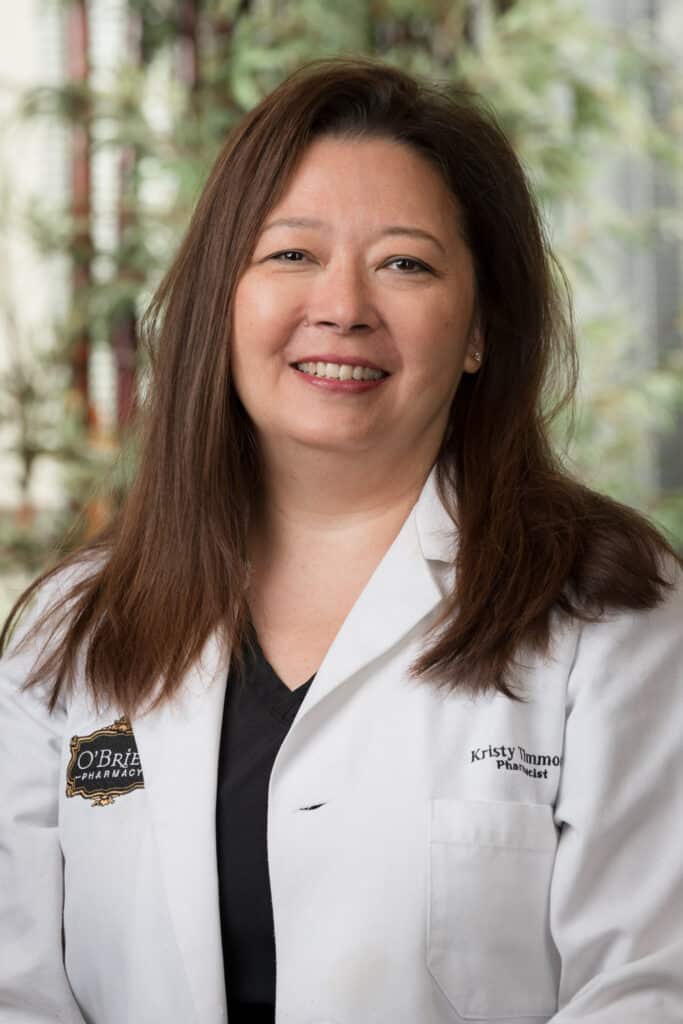 Kristy Timmons
RPh, Chief of Laboratory Operations
Kristy graduated from the University of Missouri Kansas City School of Pharmacy in 1993. She started working at O'Brien Pharmacy as a student in 1989, and then as a pharmacist upon graduation.  Her empathic nature is something all our patients have appreciated over the years. Her logic and attention to detail has made her the "top dog," specializing in both sterile and non-sterile compounding.  Kristy received Sterile Compounding certification from Professional Compounding Centers of America in 2000, has attended many International Seminars at PCCA, and has been a participant in Compounders on Capitol Hill to advocate for safe and necessary compounding. She is a member of the International & American Associations of Clinical Nutritionists, attending their yearly scientific symposiums. On top of all this, she never forgets a face or a name. Kristy is married with two grown sons.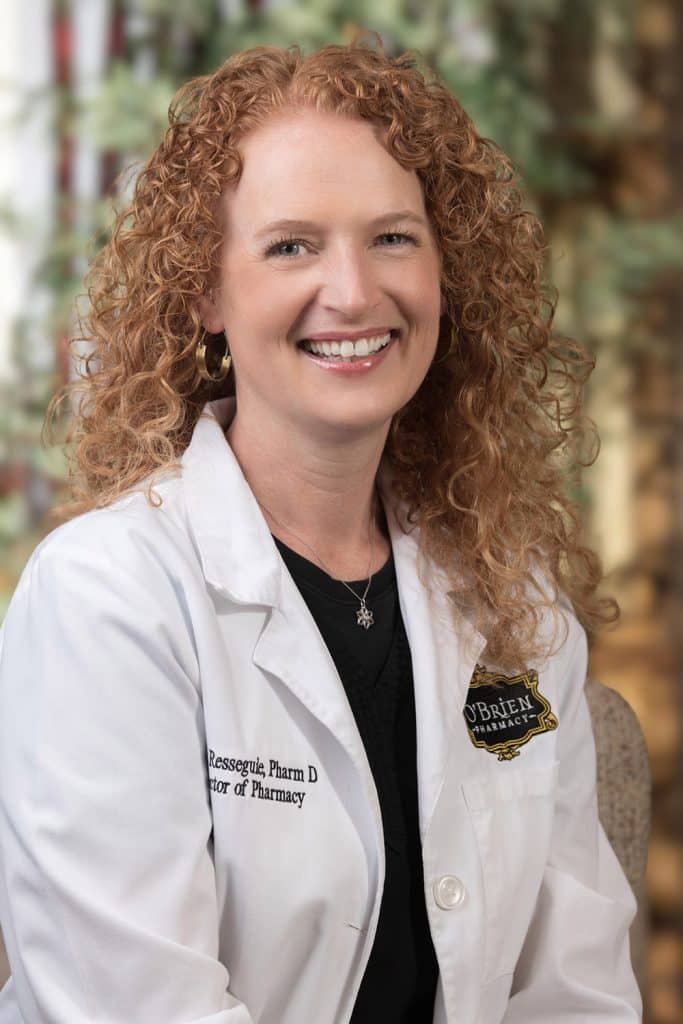 Hollie Resseguie
PharmD, Chief of Pharmacy
Operations and Education
Hollie Resseguie is grateful to be the third generation to work in her family's pharmacy. She is proud to be a part of upholding O'Brien Pharmacy's tradition of excellence in healthcare and compounding. While attending the University of Kansas School of Pharmacy, she served with several student organizations and received multiple scholarships. She is a member of Kansas Pharmacists Association, Alliance for Pharmacy Compounding, and International and American Association of Clinical Nutritionists. Prior to pharmacy school, she earned her Bachelors of Music Education from Kansas State University as well as minors in French language and English literature. She worked as a music educator in both Kansas and Missouri for 6 years. She now finds great joy in serving patients and staff as Chief of Pharmacy Operations at O'Brien Pharmacy. In her free time, she enjoys singing, reading, traveling, and spending time with family and friends. She is lucky to have a wonderful husband, Tracy, and naughty little dachshund, Friedl.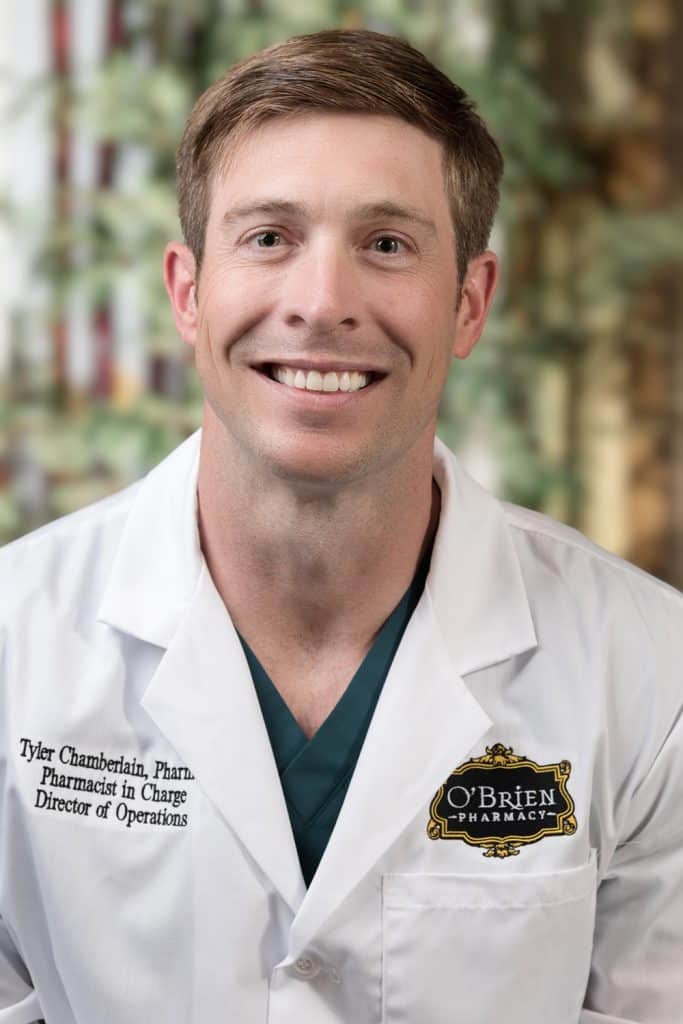 Tyler Chamberlain
PharmD, Chief of Regulation
and Compliance
After receiving his Doctor of Pharmacy degree from Purdue University, Tyler moved from St. Charles, IL to join the O'Brien Pharmacy team. The creativity, problem solving, and direct patient care are what drew him to compounding. He became interested and involved with USP regulations, licensing procedures, and inspections under the guidance of former co-owner, Eric Everett. Tyler has participated in numerous inspections from accrediting bodies and boards of pharmacy – all the way up to the FDA. He views each inspection as an opportunity to demonstrate O'Brien Pharmacy's commitment to our standard of excellence! When not at the pharmacy, Tyler enjoys an active lifestyle with his wife, Alisha, and their daughter. You will often find him causing a ruckus in the backyard or park with his two favorite ladies and dog, Mackey.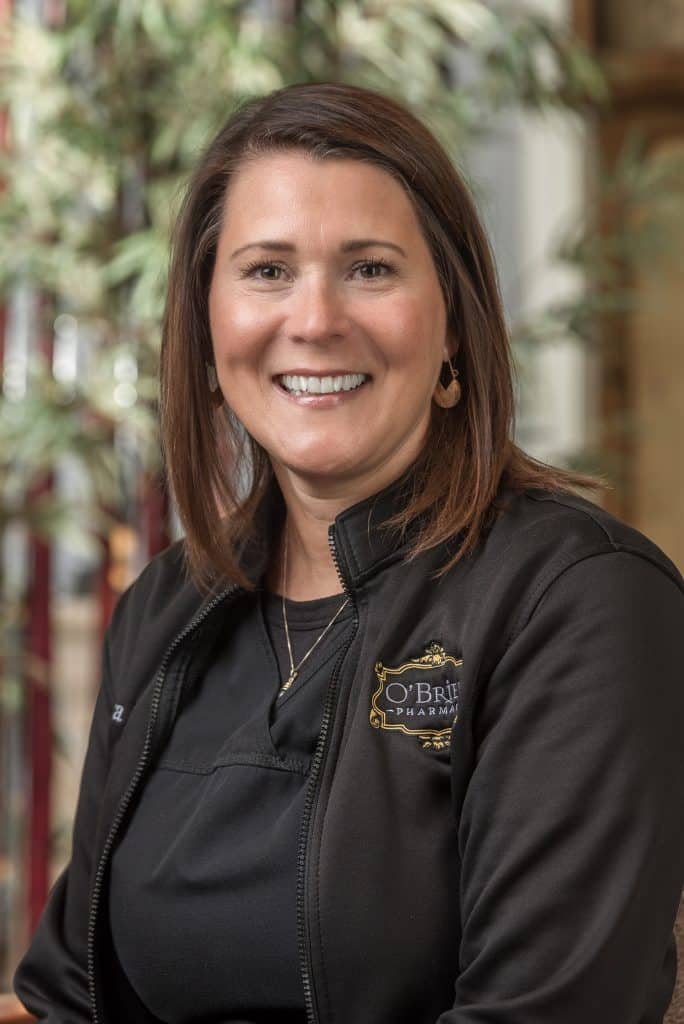 Laura Pinnell
Pharmacy Technician, Clinical
and Administrative Assistant
While being a fabulous pharmacy technician, Laura also became the sole medical assistant and personal assistant to our owner and clinical pharmacists. Her organization skills, knowledge of compounding and holistic health, patience, optimism and dedication to patient care have been assets to the O'Brien Pharmacy organization. Laura helps us connect with our community by organizing O'Brien Pharmacy's yearly Christmas charity.  She came to O'Brien Pharmacy more than 30 years ago and remains one of our longest tenured employees. Laura is married to John and has two sons. In her free time, she enjoys crafting, cheering on her sons in their sporting activities and spending weekends on the local family farm.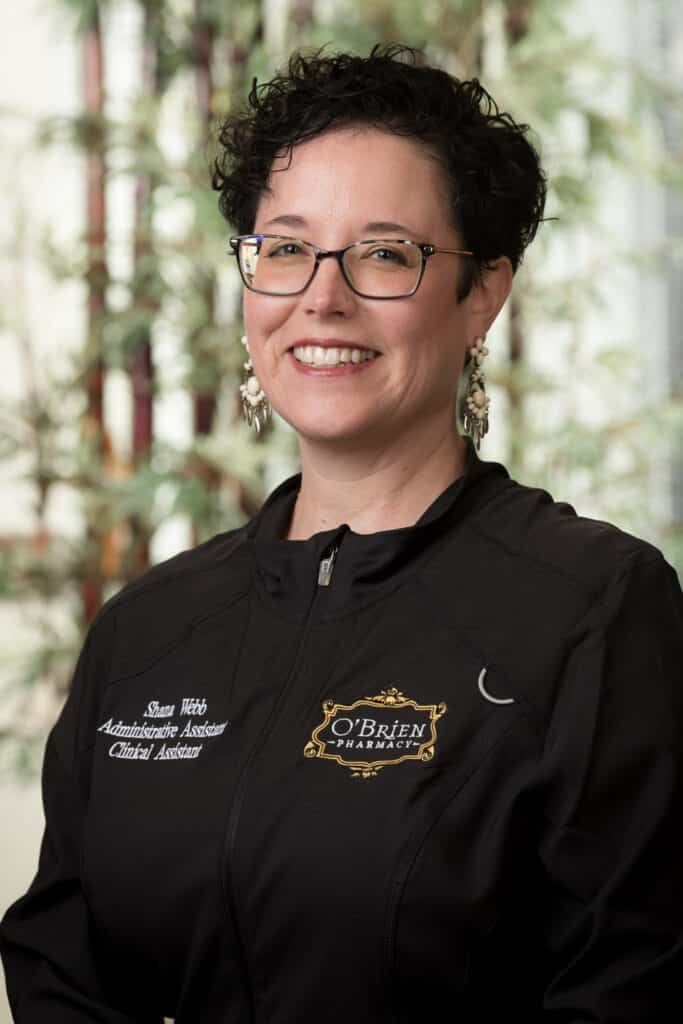 Shana Curtis Webb
Administrative and Clinical Assistant
Shana has worn many hats since joining the O'Brien Pharmacy team in 1995. She started out as manager of our high-end gift shop once located in the Medical Plaza Building on the Plaza. She then became a pharmacy technician, working in both our lab and retail area, and when we grew with staff and practitioners, she stepped in and filled the role of liaison. This job eventually morphed into Shana becoming O'Brien Pharmacy's first manager of front-end pharmacy technicians. She now is an administrative and clinical assistant for Lisa, helping to keep the days organized, updating patient charts, and writing and editing many of the brochures, articles, and website content. Most recently, Shana collected research and was one of the editors for Lisa's book, Learning to Thrive in a Toxic World. She will continue this role for Lisa's upcoming book, Learning to Heal in a Toxic World. Shana is married with three adult children and one granddaughter. She loves spending time with her family, remodeling her home, searching for treasures at second hand stores, and enjoying a relaxing evening with a glass of wine.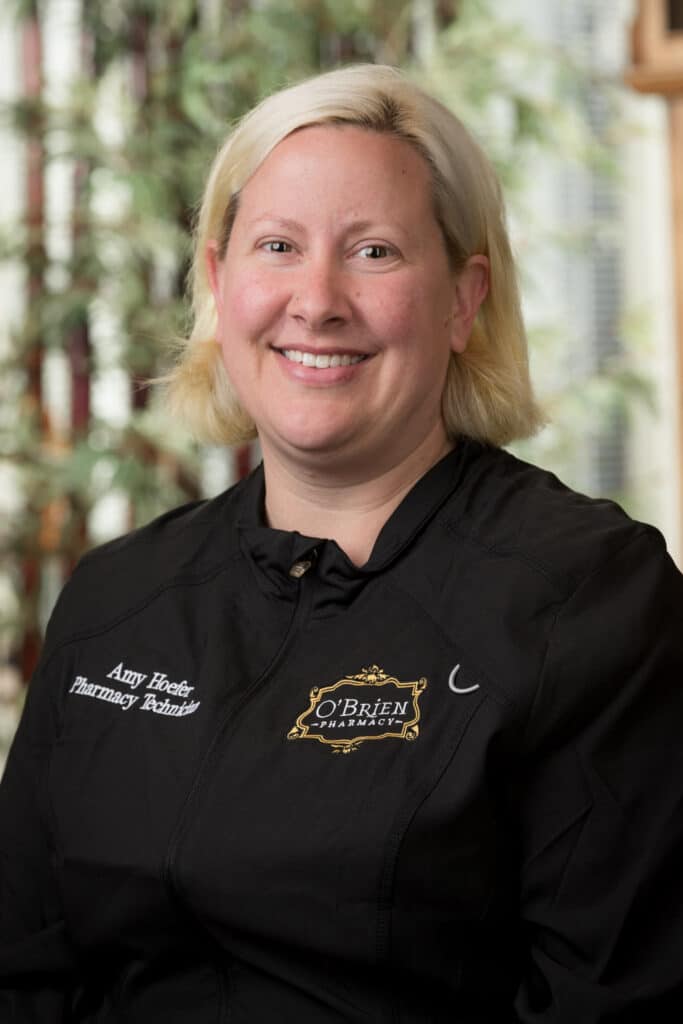 Amy Hoefer
Pharmacy Technician, Lead Laboratory Technician
Amy first joined O'Brien Pharmacy in 2001, took a short-lived hiatus several years later, then came back "home" in 2007. As the lead Lab Technician, she is in charge of laboratory inventory, has her own lab technician duties, and is a go-to for lab technician personnel. She believes strongly in O'Brien Pharmacy mission to provide customers with personalized medications. Amy has been recognized for her contributions by industry leader PCCA in their very own Profiles in Personalized Medicine. When she's not in the pharmacy she is likely spending time with her family and friends.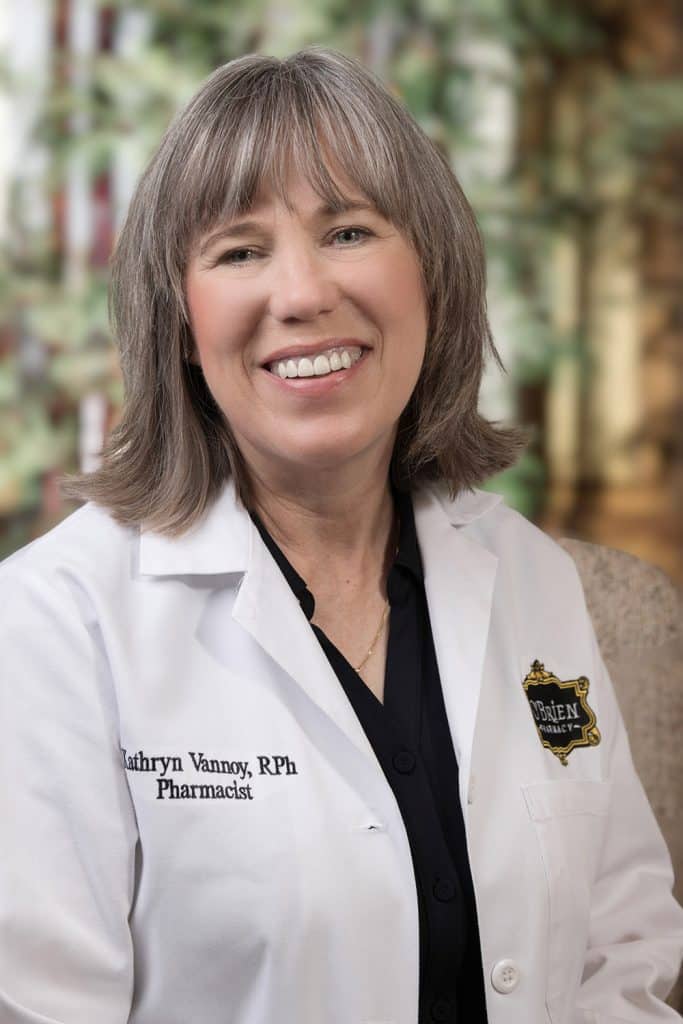 Kathryn Vannoy
RPh, Client Liaison
Kathryn Vannoy graduated from Creighton Pharmacy School and has worked in pharmaceutical sales and retail pharmacy throughout her career. She joined our pharmacist team in 2006 and serves as the liaison between O'Brien Pharmacy and our physicians, medical offices, laboratory partners, and patients. Her meticulous attention to detail along with her motivation and willingness to problem solve and deliver on new ideas makes her ideal for her client facing role. Kathy is married to Tim and has three adult daughters and a son-in-law. In her free time, she enjoys spending time with family and friends, babysitting her grandson, and volunteering at her church.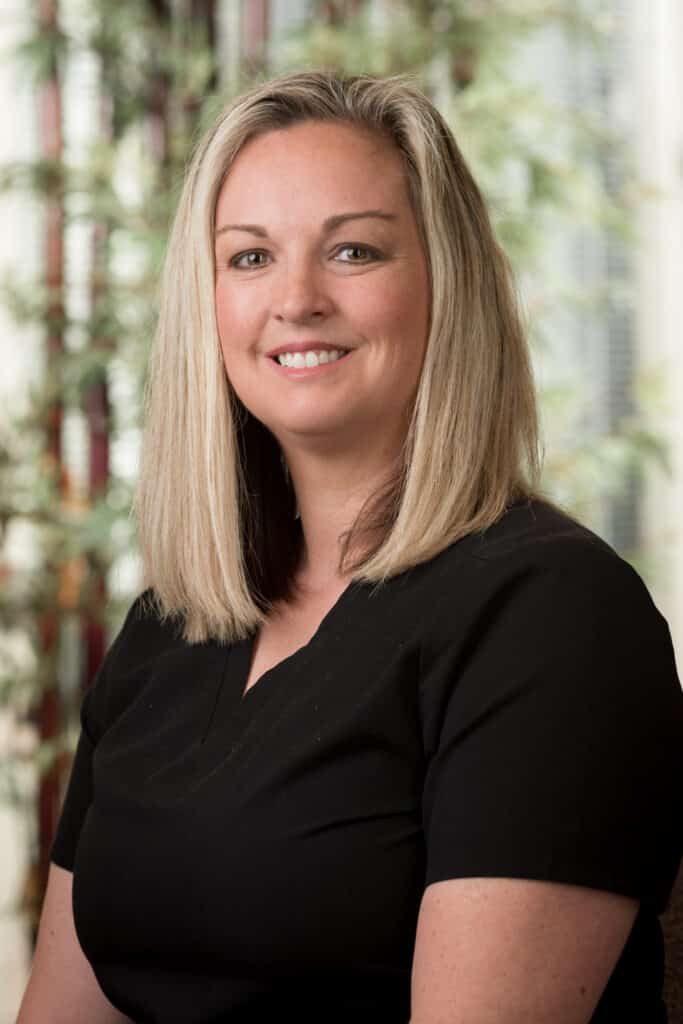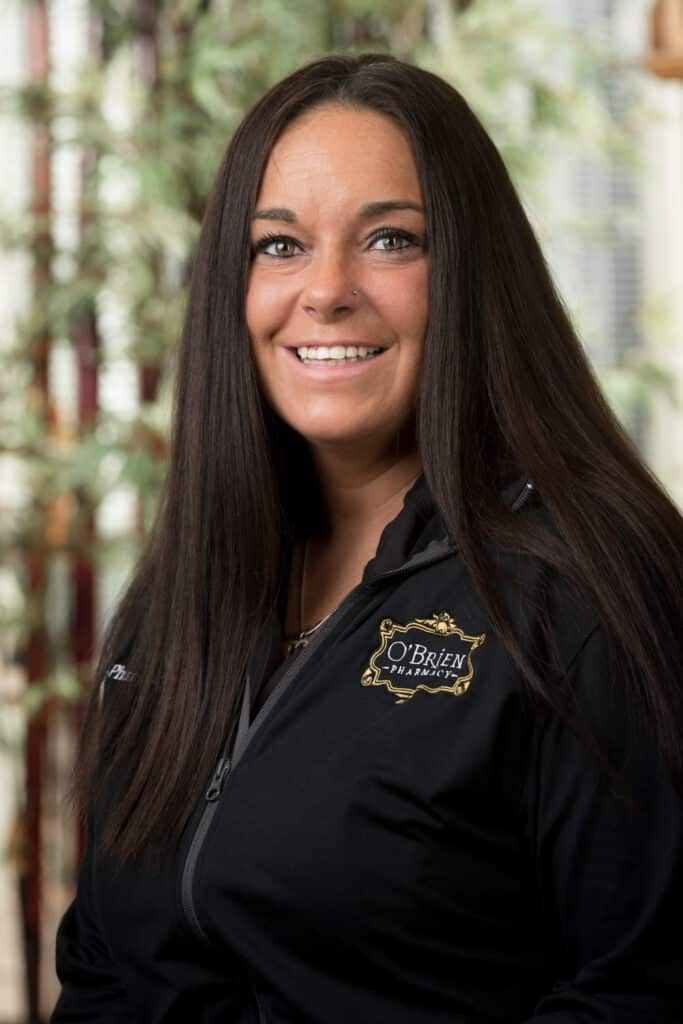 Stacy Steffens
Pharmacy Technician
Stacy came to O'Brien Pharmacy with years of experience as a technician in the retail setting. We value her upbeat persona, thoughtful nature and customer-oriented attitude. Stacy goes above and beyond to make the patient her first priority, something O'Brien Pharmacy always strives to do. In her free time, Stacy enjoys crafting, traveling, and relishing in the sun with friends.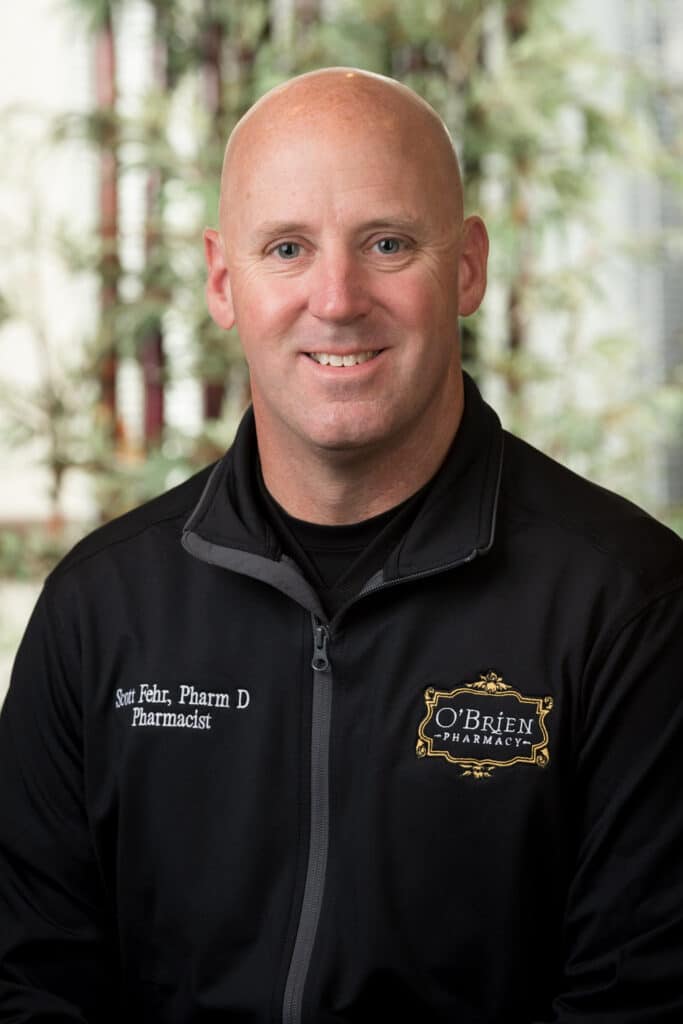 Scott Fehr earned his Doctorate in Pharmacy from the University of Kansas in 2013 after previously earning a degree in Civil Engineering. Scott joined O' Brien Pharmacy in 2015 and has advanced into one of our most skilled and reputable positions as a lead sterile pharmacist. We are fortunate to have the empathy, commitment, experience, aptitude and fine attention to detail that Scott offers to our pharmacist team. Scott uses his compounding expertise to create, compound, and customize a variety of formulas for our clients. He is married to Amanda and has three children. Scott spends his free time coaching youth sports, volunteering and mentoring at his local church, and enjoying time with his family.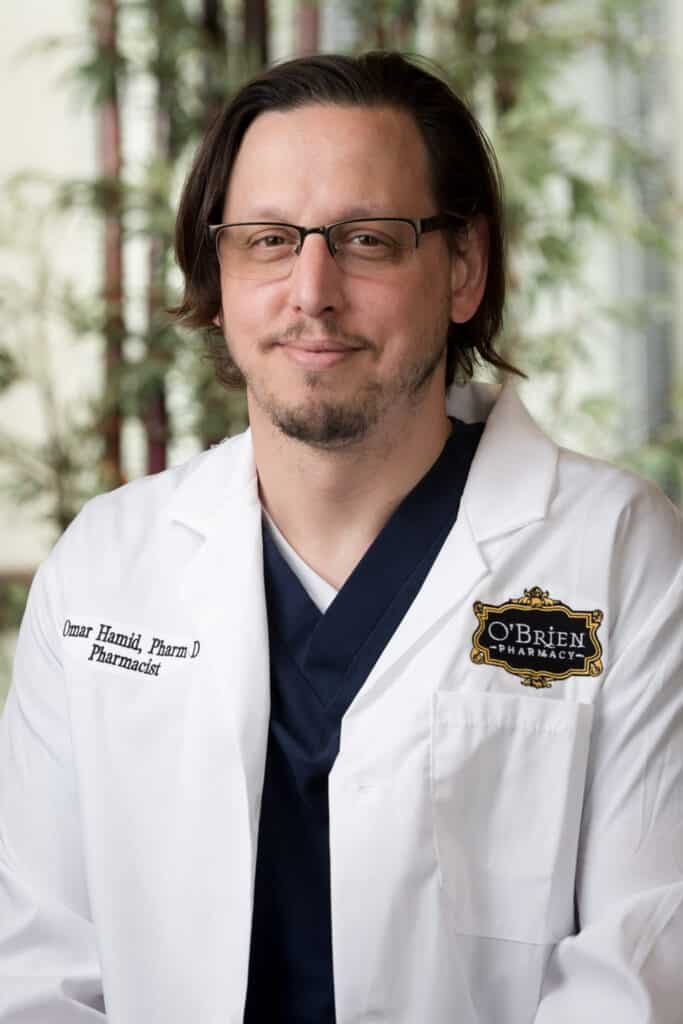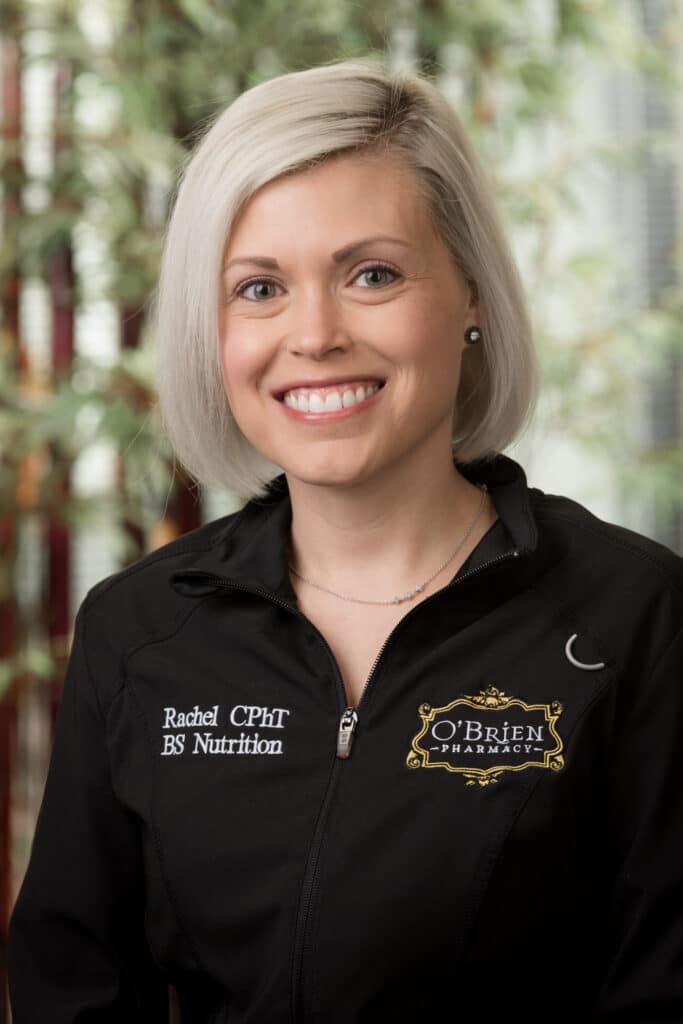 Rachel Levetin
Pharmacy Technician, Nutritionist
Rachel is a Nationally Certified Pharmacy Technician, nutritionist, and wellness professional that has been with O'Brien Pharmacy since 2017. Combining her background in nutrition and holistic research, Rachel assists with designing personalized protocols that incorporate whole foods, vegan friendly meal plans, medical history, and lifestyle modifications to optimize patient health outcomes. Following the completion of her undergraduate studies at Point Loma Nazarene University in San Diego, where Rachel obtained a Bachelor of Science degree in Foods and Nutrition, she began a 7-year career in the spa and wellness industry where she piqued her interest in the principals of alternative health practices and clinical nutrition.During her free time, she enjoys the Kansas City music and arts scene and considers herself a local foodie.  She also enjoys spending time at the dog park and everywhere she can take her standard poodle (the second smartest dog in the world), Zuzu.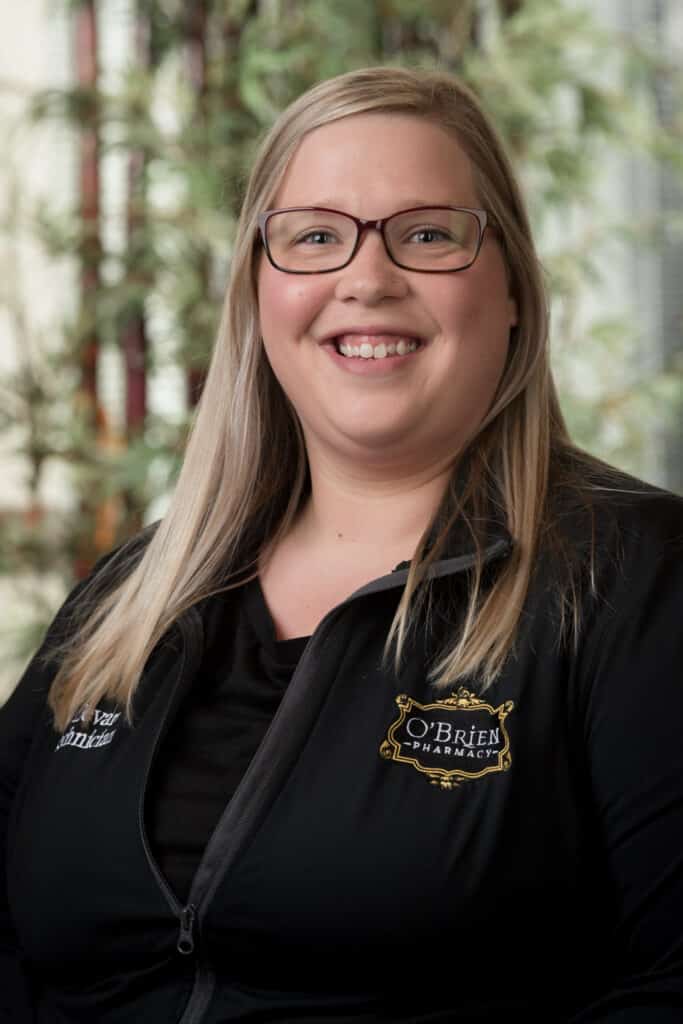 Devan Zielinski
Pharmacy Technician
Before she joined O'Brien Pharmacy, Devan worked as a pharmacy technician in a hospital setting. Devan approaches each day with compassion and empathy, making her perfect for her patient oriented role. Her common sense, as well as detail oriented and organized nature are revered assets. Devan is married to Dane. They have one son and a variety of pets. In her free time, Devan enjoys doing home projects, cooking and going on long drives with her husband.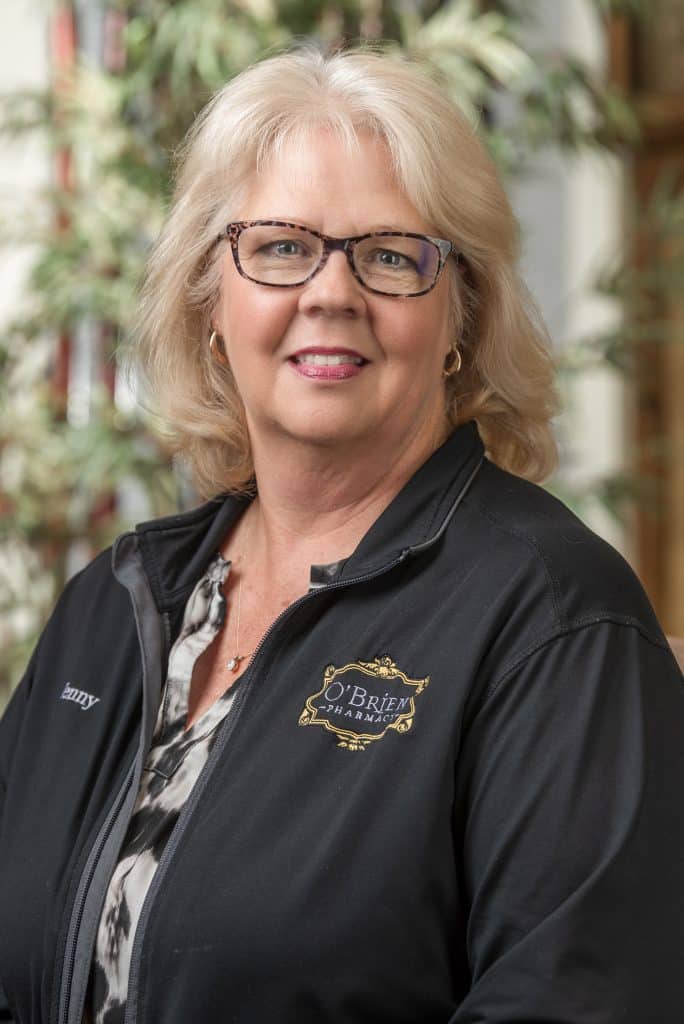 Jenny Newcomb
Financial Services
Jenny has been with O'Brien Pharmacy since 2019, handling all accounting, payroll, and IT functions.  She has a Bachelor's of Science in Business from the University of Arkansas and came to us with over 20 years' experience as an IT and Back Office Services Director. She has been a missing link we didn't realize we needed before she joined us, and we are so grateful to have her as a part of the O'Brien Pharmacy team.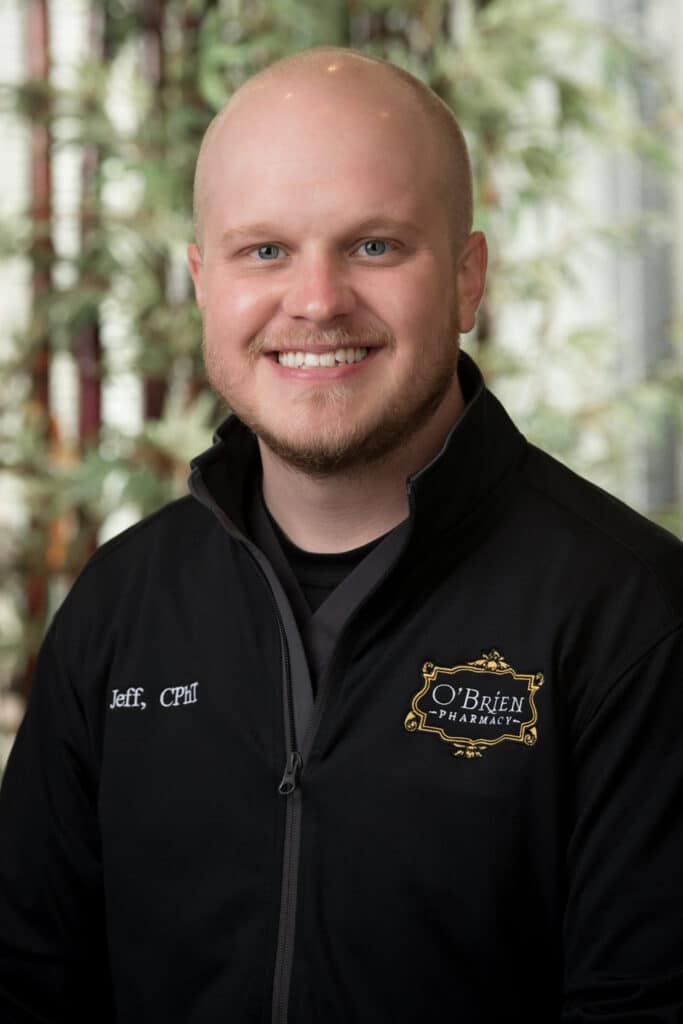 Jeff Dendurent
Pharmacy Technician
Jeff, a certified pharmacy technician, came to O'Brien Pharmacy in 2020 with 5 years of experience in independent community pharmacy. He holds a Bachelors of Science in Psychology from Kansas State University. Jeff serves as a laboratory technician but his diverse skill set allows him to also work in the dispensing area when needed. Jeff's patience and accuracy add value to the productivity and goals of our organization. Outside of work he enjoys hiking, cooking, spending time with friends and family and playing fantasy football.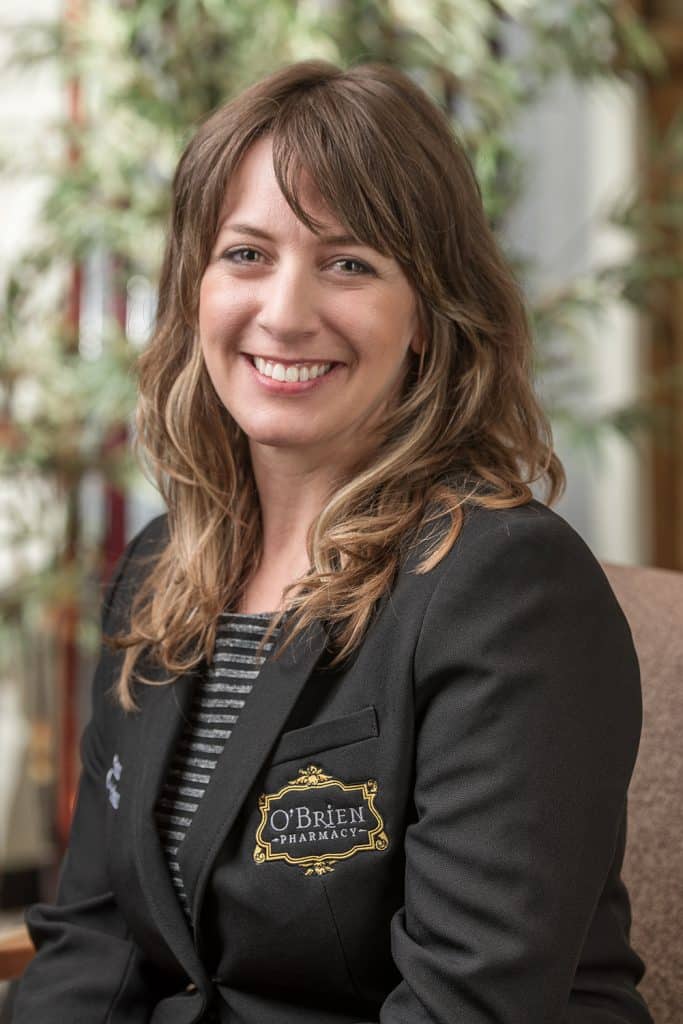 Sarah Cotur
Communications Coordinator
Sarah joined O'Brien Pharmacy in 2022 in a newly created position. She earned a dual bachelors in Communication and Psychology from Stephens College in 2006 and an A.A. degree in Graphic Design from Parsons, The New School for Design in 2008. She brings a variety of B2B and B2C experience in marketing, advertising, and design from numerous small to mid-size businesses.
She believes one of the most interesting and rewarding aspects about working in MarComm is the opportunity to learn and immerse herself in the intricacies of different industries to best understand the business and client needs.  As communications coordinator, she creates and delivers both internal and outbound communications, with the goal of creating effective, efficient,  on-brand materials and experiences that reflect the aesthetic integrity and quality of  O'Brien Pharmacy.
When not at the pharmacy, she is most likely chasing / entertaining her darling toddler daughter.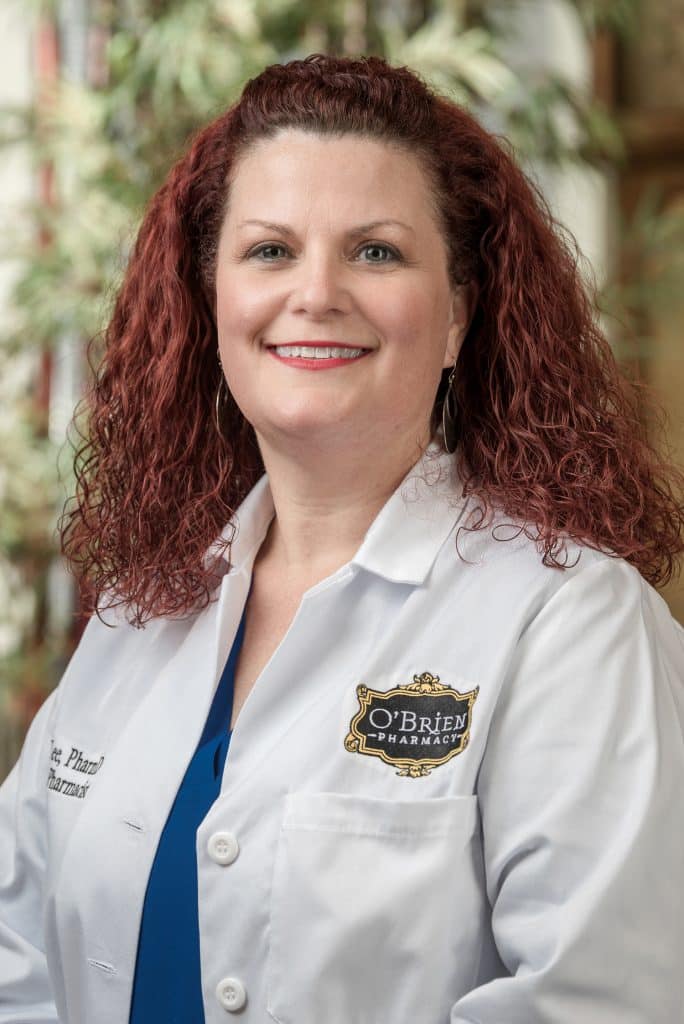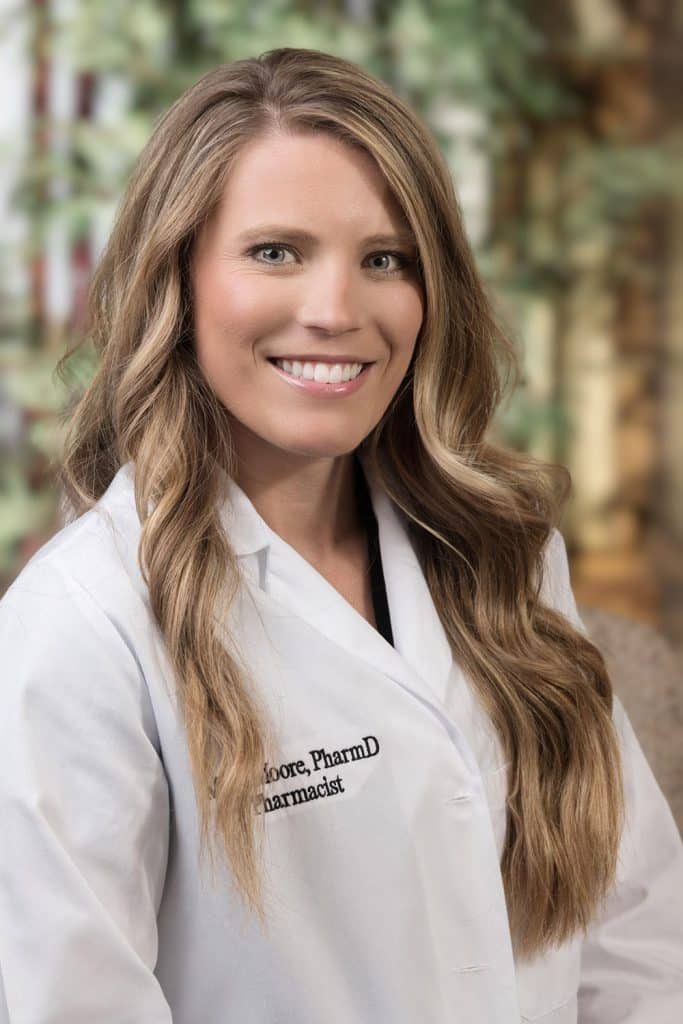 Mady joined O'Brien Pharmacy in 2022 after earning her Doctor of Pharmacy in 2021 from the University of Kansas School of Pharmacy and completing her PGY-1 community residency. Professionally, she is also interested and passionate in precepting and working with pharmacy students, building relationships with patients, and focusing on a holistic and personalized approach to medicine. While attending undergraduate at K-State she also ran track and cross country for the KSU Track and Field teams and continues to enjoy running as well as hiking 14-ers with her husband, Jackson, and spending quality time with her family and friends.
The O'Brien Pharmacy Difference
At O'Brien Pharmacy, we have but one passion: to serve our global community. We are  dedicated to extraordinary and individualized patient care, providing innovative, well documented, and highest quality medication and holistic solutions for practitioners and patients alike. We promote optimal lifestyle and healing with clinical consultations and the art and science of compounding without compromise. It is with gratitude and our greatest pleasure that we accept our role as a trusted cornerstone in healthcare since 1962. 
O'Brien Pharmacy is non-sterile and sterile PCAB accredited.
O'Brien Pharmacy is a FDA-inspected and FDA-compliant facility.
5453 W 61st Place
Mission, Kansas 66205
913-322-0001
800-627-4360 
913-322-0002 (fax)
mail@obrienrx.com