SMART ADVICE / NEW IN COMPOUNDING
Our Insights on the AAO 2023 Conference: New Compounding Treatments on the Scene.
WRITTEN AND EDITED BY
SHANA CURTIS WEBB & TYLER CHAMBERLAIN, PHARM D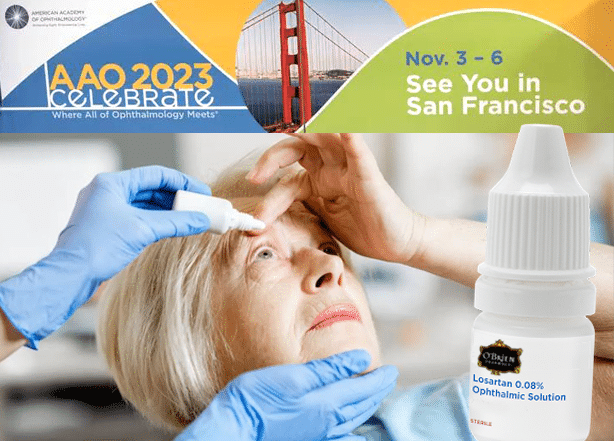 After O'Brien Pharmacy attended AAO 2023 and learned about new treatments and pharmacy-related issues facing Ophthalmologists and Optometrists, we want to share we offer two exciting new compounded preparations for your practice, including Losartan 0.8mg/ml as well as Insulin 1u/ml up to 10u/ml Ophthalmic drops.
Losartan helps patients' eyes that have corneal clouding / scarring and Insulin Ophthalmic drops have been shown to help alleviate corneal defects that are unresponsive to other treatments. Below, you can read more about this year's conference, as well as links to clinical research findings and medical journals on both of these  drugs, new to the compounding Ophthalmology and Optometry scene.
Having a collaborative relationship between pharmacists and practitioners on behalf of the patient's highest good is a service we have always offered and hold in high regard. This is why pharmacist Tyler Chamberlain attended the American Academy of Ophthalmology (AAO) annual conference in San Francisco, California. It is the largest conference of its kind, attracting ophthalmologists from around the globe to network, discuss the latest in technological and medicinal uses, and examine the best practices in patient care. Tyler was able to connect with many of the clinics and higher institutions of learning that we currently provide with a variety of compounded eye products. He was also able to meet practitioners we haven't worked with before, leaving them excited about the many options of customized formulas we can supply. Two newer preparations he introduced and caught a lot of attention are Losartan 0.8mg/ml drops, which help eyes that have corneal clouding and/or scaring, and Insulin (1u/ml up to 10u/ml) drops that have been shown to alleviate corneal defects and unresponsive to other treatments. The AAO conference is one we hope to attend every year, as it helps us to learn about what is happening in the world of ophthalmology, including the pharmacy-related issues facing ophthalmologists and optometrists, so that we might play a role not only in finding solutions, but also in providing support to both clinicians and their patients.